Bridgestone Turanza T005 225/45 17W (94)
Locate A Centre
This tyre is not currently available in all centres.
To check availability in your nearest centre, please enter your full postcode (e.g. EH52 5AS) or the first part of your postcode (e.g. EH52) in the space below. Alternatively, enter your city name or post town.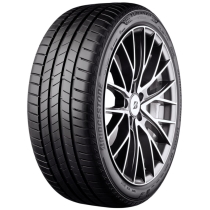 Attributes
The premium touring tyre from Bridgestone
Key Features
Delivers outstanding wet performance and fuel economy, combined with high mileage, to give drivers full control in challenging daily situations, especially on rainy days.
Outstanding wet performance.
Bridgestone's proprietary NanoPro-Tech polymer is mixed in the high-silica-content compound to help maximise wear, wet grip and fuel efficiency.
Tyre Unavailable
Sorry, this tyre is not currently available.