Continental Sport Contact 6 235/35 19Y (91)
Locate A Centre
This tyre is not currently available in all centres.
To check availability in your nearest centre, please enter your full postcode (e.g. EH52 5AS) or the first part of your postcode (e.g. EH52) in the space below. Alternatively, enter your city name or post town.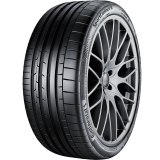 Attributes
Designed for sports and high-performance vehicles
Key Features
New 'Black Chili' Micro Flexibility Compound ensures optimum grip between the tyre and the road surface
Improved inner and outer tread pattern ensures best steering precision and cornering
New adaptive hybrid cap ply 'Aralon350™' provides maximum stability at high speeds up to 350km/h
Tyre Unavailable
Sorry, this tyre is not currently available.