Dunlop Winter Sport 5 235/65H17 (108)
Locate A Centre
This tyre is not currently available in all centres.
To check availability in your nearest centre, please enter your full postcode (e.g. EH52 5AS) or the first part of your postcode (e.g. EH52) in the space below. Alternatively, enter your city name or post town.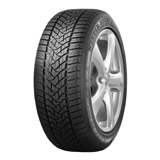 Attributes
Unforeseen winter roads are no match for the Dunlop Winter Sport 5
Key Features
Increased number of blocks provide additional edges in contact with the road's surface, offering superior traction on snow
Amplified depth of grooves in the tread rapidly eject more water, helping you maintain control on wet roads
Innovative angled centre sipes have an improved ability to grab onto surfaces, ensuring excellent lateral grip in winter weather.
Tyre Unavailable
Sorry, this tyre is not currently available.