Michelin CrossClimate+ 215/50 17W (95)
Locate A Centre
This tyre is not currently available in all centres.
To check availability in your nearest centre, please enter your full postcode (e.g. EH52 5AS) or the first part of your postcode (e.g. EH52) in the space below. Alternatively, enter your city name or post town.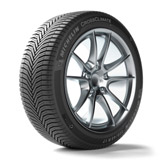 Attributes
Arm yourself for every weather condition. The summer tyre with winter certification.
Key Features
New improved CrossClimate design incorporates the latest generation Michelin tread compound, providing safety and grip thoughout the life of the tyre.
Excellent grip on wet roads in summer and winter - ideally suited to UK winter conditions.
3 Peak Mountain Snowflake certification for added traction and mobilty on snow, unparalleld by any other summer tyre.
Please note: we will only fit Michelin CrossClimate tyres in pairs fitted to the same axle. For the best performance, we recommend they are fitted in sets of four and not mixed with any other tyre on your vehicle.
Tyre Unavailable
Sorry, this tyre is not currently available.