Michelin Pilot Sport 4S Silent 245/35 21Y (96)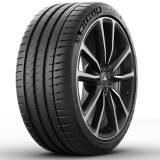 Attributes
The super sports tyre from Michelin for sports cars, high performance saloons and hyper cars, with added Michelin Acoustic Technology.
Key Features
Ultra-reactive tread pattern design adapts continuously to the road, for an optimised footprint on the road surface
"Dynamic Response" technology ensures optimum transmission of steering from driver to road
Exceptional dry grip and improved wet braking
Michelin Acoustic Technology significantly reduces interior noise by reducing vibrations caused by the road surface.
Tyre Unavailable
Sorry, this tyre is not currently available.