Pirelli Carrier Winter 185/75R16 (104/)
Locate A Centre
This tyre is not currently available in all centres.
To check availability in your nearest centre, please enter your full postcode (e.g. EH52 5AS) or the first part of your postcode (e.g. EH52) in the space below. Alternatively, enter your city name or post town.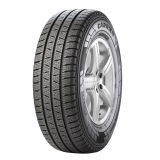 Attributes
The ideal choice for Vans in winter conditions
Key Features
Excellent mileage, safety in wet and winter conditions
Enhanced profile and an all new compound to provide it with all the attributes drivers are looking for in a premium winter van product
3-wide longitudinal grooves provide safety and aquaplaning resistance in wet weather.
Tyre Unavailable
Sorry, this tyre is not currently available.