Continental WinterContact TS 870 P
The innovative German-engineered WinterContact TS 870 P safety system was designed to handle any winter weather
Key Features
More snow may be gathered from the ground with an enhanced arrangement of steep parallel sipes. You will have a firmer grip and more precise handling as a result. Additionally, whenever you need to brake, large wiping edges make it possible for water and slush to drain extremely quickly, reducing the braking distance on frozen ground
Excellent aquaplaning performance is assured by unique hydro grooves, and exceptional wet braking is made possible by the new sustainable components and enhanced composition of the CoolChiliTM compound
Less road abrasion and longer tyre life are guaranteed by a specially designed flexible polymer matrix with strong molecular chains.
View The Full Continental Tyre Range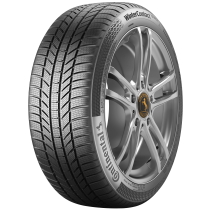 ---
Tyres with this tread pattern
There are 46 tyres that use this tread.