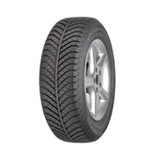 Goodyear Cargo Vector Four Season
Optimum performance in all weather conditions.
Key Features
These are recommended winter tyres based on your selection
Cars or Vans should ALWAYS drive on a complete set of winter or summer tyres
Check your car's handbook for recommended load index
Option to store your summer tyres at the Kwik-Fit 'tyre hotel'
Homologated for fitment to certain Audi cars.
---
Tyres with this tread pattern
There are 11 tyres that use this tread.
| Size | Attributes | Fuel | Grip | Noise | Check Stock |
| --- | --- | --- | --- | --- | --- |
| 175/65 13T (80) | | | | | Check |
| 215/65 16T (106/104) | | | | | Check |
| 225/45 17V (94) | | | | | Check |
| 225/50 17H (98) | | | | | Check |
| 235/65 16S (115/113) | | | | | Check |
| 165/65 14T (79) | | | | | Check |
| 195/60 16H (99) | | | | | Check |
| 215/60 16H (95) | | | | | Check |
| 215/60 16V (95) | | | | | Check |
| 225/50 17V (98) | | | | | Check |
| 235/50 17V (96) | | | | | Check |