Goodyear EfficientGrip Compact 2
The EfficientGrip Compact has a lower risk of aquaplaning because the rounder body of the tyre prevents water from building up in front of the tyre, boosting safety and reliability. The tyre has also been designed with specific characteristics that minimise overall tyre weight for improved pressure distribution, encouraging even tyre wear, and lowering rolling resistance, resulting in lower CO2 emissions.
Key Features
Better resistance to aquaplaning and shorter braking distances on wet and dry surfaces
Reduced rolling resistance and fuel consumption
Large shoulder blocks improve cornering stability
Reduce CO2 emissions
View The Full Goodyear Tyre Range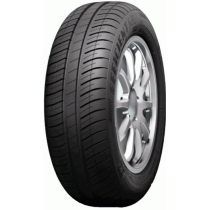 ---
Tyres with this tread pattern
There are 13 tyres that use this tread.