Pirelli Cinturato P7 Seal Inside
The Green Performance tyre for high performance cars with SEAL INSIDE technology
Key Features
Low rolling resistance - reduction in fuel consumption and harmful emissions. High mileage. Excellent wet and dry handling
High resistance to aquaplaning
High standards of active safety
Seal Inside technology allows the vehicle to keep running in the event of a puncture without losing air pressure.
View The Full Pirelli Tyre Range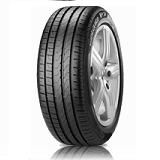 ---
Tyres with this tread pattern
There are 6 tyres that use this tread.