Bridgestone Dueler A/T001 265/65 17T (112)
Locate A Centre
This tyre is not currently available in all centres.
To check availability in your nearest centre, please enter your full postcode (e.g. EH52 5AS) or the first part of your postcode (e.g. EH52) in the space below. Alternatively, enter your city name or post town.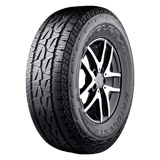 Attributes
Engineered to perform on and off-road in all seasons
Key Features
New all terrain pattern geometry provides enhanced traction and braking performance on snow and mud compared to its predecessor
Dedicated tread design ideal for conquering tough terrain in all seasons
On-road performance is never compromised thanks to enhanced tread grooves for better water evacuation.
Tyre Unavailable
Sorry, this tyre is not currently available.