Bridgestone Dueler D684 245/65 17S (111)
Locate A Centre
This tyre is not currently available in all centres.
To check availability in your nearest centre, please enter your full postcode (e.g. EH52 5AS) or the first part of your postcode (e.g. EH52) in the space below. Alternatively, enter your city name or post town.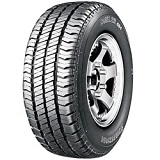 Attributes
The highway terrain tyre from Bridgestone that provides total confidence, whatever the season
Key Features
Small block design, all-season tread pattern that gives outstanding all weather grip as well a quiet ride
Designed mainly for on-road use with occasional off-roading
Fitted as original equipment on many high end 4x4 vehicles like the BMW X5 and Isuzu trooper.
Tyre Unavailable
Sorry, this tyre is not currently available.