Bridgestone EP25 Ecopia 185/60H16 (86)
Locate A Centre
To check your local centre for availability, please click the button below.
To check availability in your nearest centre, please enter your full postcode (e.g. EH52 5AS) or the first part of your postcode (e.g. EH52) in the space below. Alternatively, enter your city name or post town.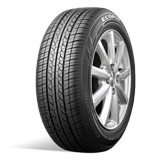 Attributes
Delivers excellent fuel economy and low noise while maintaining Bridgestone's renowned safety standards
Key Features
Designed for Toyota iQ and Peugeot 208
Excellent wet control and stability
Low rolling resistance for better fuel efficiency
Available Wednesday
Centre Availability
Mobile Availability
Tuesday
Book & Pay Online
£94.00
The "Book & Pay Online" price is an exclusive online price and includes a new standard valve (Cap & Core if TPMS fitted), balance, environmental disposal and VAT.