Bridgestone Turanza ER300 245/45 18Y (96)
Locate A Centre
To check your local centre for availability, please click the button below.
To check availability in your nearest centre, please enter your full postcode (e.g. EH52 5AS) or the first part of your postcode (e.g. EH52) in the space below. Alternatively, enter your city name or post town.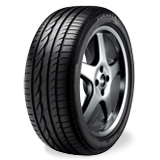 Attributes
Sharp steering response, cornering power and straight-line stability at higher speeds
Key Features
Refined and quiet comfort
Smooth and comfortable ride
Low noise output at all speeds is optimised by the advanced pattern design
Homologated for fitment to certain BMW models.
Available Wednesday
Centre Availability
Mobile Availability
Tuesday
Book & Pay Online
£151.00
The "Book & Pay Online" price is an exclusive online price and includes a new standard valve or TPMS stem replacement, balance, environmental disposal and VAT.