Bridgestone Duravis R660 205/65 16T (107/105/)
Locate A Centre
This tyre is not currently available in all centres.
To check availability in your nearest centre, please enter your full postcode (e.g. EH52 5AS) or the first part of your postcode (e.g. EH52) in the space below. Alternatively, enter your city name or post town.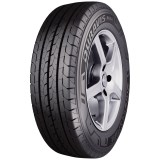 Attributes
Outstanding mileage and durability with great wet weather performance for light commercial vehicles
Key Features
Reduced fuel consumption thanks to its Super-S shaped casing. Also improves strain distribution in the bead to improve durability
Greatly enhanced tread design delivers confident and reliable handling across a variety of road and weather conditions
New footprint design, combining TBR and PSR knowledge, limits irregular wear especially in the shoulder area.
Tyre Unavailable
Sorry, this tyre is not currently available.