Continental Sport Contact 6 255/35Y19 (96)
Locate A Centre
To check your local centre for availability, please click the button below.
To check availability in your nearest centre, please enter your full postcode (e.g. EH52 5AS) or the first part of your postcode (e.g. EH52) in the space below. Alternatively, enter your city name or post town.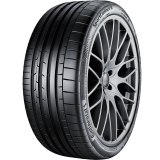 Attributes
Designed for sports and high-performance vehicles
Key Features
New 'Black Chili' Micro Flexibility Compound ensures optimum grip between the tyre and the road surface
Improved inner and outer tread pattern ensures best steering precision and cornering
New adaptive hybrid cap ply 'Aralon350™' provides maximum stability at high speeds up to 350km/h
Homologated for fitment to certain Audi cars.
Available Wednesday
Centre Availability
Mobile Availability
Tuesday
Book & Pay Online
£152.00
The "Book & Pay Online" price is an exclusive online price and includes a new standard valve (Cap & Core if TPMS fitted), balance, environmental disposal and VAT.