Goodyear Vector 4Seasons Gen-2 195/55 15H (85)
Locate A Centre
This tyre is not currently available in all centres.
To check availability in your nearest centre, please enter your full postcode (e.g. EH52 5AS) or the first part of your postcode (e.g. EH52) in the space below. Alternatively, enter your city name or post town.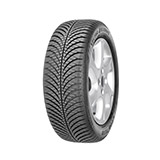 Attributes
The latest Vector 4Seasons tyre from Goodyear provides excellent driving performance in all weather conditions, all year long
Key Features
Excellent year-round performance - Weather Reactive Technology adapts to seasonal changes
Traction for all road conditions - high density 3D waffle blades give the Vector 4Seasons excellent ice and snow traction
Environmentally friendly - low rolling resistance means you can go further on less fuel
Tyre Unavailable
Sorry, this tyre is not currently available.