Michelin Pilot Sport 4 SUV 225/60V18 (100)
Locate A Centre
This tyre is not currently available in all centres.
To check availability in your nearest centre, please enter your full postcode (e.g. EH52 5AS) or the first part of your postcode (e.g. EH52) in the space below. Alternatively, enter your city name or post town.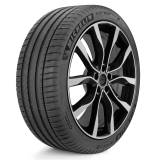 Attributes
The Michelin summer tyre for SUV 4x4s, Compact & Medium SUVs, and Large & Luxury SUVs
Key Features
Sporty Handling: Outstanding grip and safety - rated #1 in wet and dry braking in TUV SUD external tests (Aug/Sep 2018).
Long Lasting Performance: robust lifespan with excellent lifetime mileage.
Stylish: travel in comfort and style.
Approved by Volvo and Land Rover.
Tyre Unavailable
Sorry, this tyre is not currently available.