Uniroyal RainSport 3 SSR 225/45 18Y (95)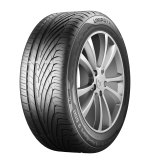 Attributes
The RainSport 3 SSR is a summer runflat tyre for a sporty performance, whatever the weather. Suitable for fast, sporty cars, including high performance vehicles, SUVs, and small cars.
Key Features
Self Supporting Runflat (SSR) tyre makes it possible to continue driving with a puncture and remain in control of the vehicle.
Shark Skin Technology for maximum safety: Innovative 'shark skin' technology ensures water is channelled more quickly from the longitudinal grooves to provide exceptional aquaplaning resistance.
Full control in wet weather conditions: Its special tyre pattern increases the tyre's contact area on wet roads so you can remain in total control. The RainSport 3 is rated A on the EU Tyre Label for wet grip, indicating the highest possible performance in wet and rainy conditions.
High grip when cornering: Fast Curve Configuration and flexible tread blocks increase the area in which forces are transmitted to the roads. So, even when you take a corner at speed, the RainSport 3 will keep its grip.
Lifetime Mileage Guarantee – all new tyres fitted are covered by our lifetime guarantee against manufacturing defects throughout the legal life of the tyre.
Tyre Unavailable
Sorry, this tyre is not currently available.